This is long, long overdue. I chose to go back to college (idiot that I am) and waste my time attending classes. Shame on me!
Anyway, I read a stupendous number of books in May (seven!), of which I'm proud, considering how slow I am at reading.
in the order in which I finished reading them
April Galleons – John Ashbery – English – Poetry
I can't remember what I want to say about Ashbery. He's difficult, yes. It took me forever to get into his writing. Just to follow his train of thought or imagery. I began reading Ashbery with no preconceived notions, which is rare. But when I found myself struggling to access the poems, really get into them, I internetted. (What else could I do?) I found a Slate article on how to read Ashbery by Megan O'Rourke . If anyone is facing similar problems with Ashbery, I recommend reading it. It won't solve any problems and you'll still have to put in a lot of effort, but O'Rourke sort of guides you in the right direction. I remember finding the use of pronouns very annoying, because I had no idea what they were referring to at points. This is what MOR says:
[...] don't be confused by all the pronouns encountered in a single poem—the procession of shifting "you," "we," and "I" that is a hallmark Ashbery tactic. Traditionally, the different pronouns in a lyric poem are important because they fill in the latent narrative, helping you figure out whether the person being addressed is a lover, a daughter, the self, etc. But in Ashbery the pronouns are generic rather than specific. The "we" is an expression of the poet's flickering sense of solidarity with his fellow citizens, a stand-in for what he takes to be marginalized participants in American capitalism: those who love its products (the movies, T-shirts) but are suspicious of its processes; it represents the cautious identification of the individual with his society. The "you" is often a kind of companion self, a figure the speaker, in moments of feeling exiled, can address himself to. A typical Ashbery move is to retreat from this pluralistic "you" or "we" of identifying with others to an intensely singular "you"—the you of the self suddenly and ruefully alienated from his surroundings, the one we address in private. Read the entire article.
Obviously, Megan O'Rourke's opinion isn't the only valid one, but it certainly is valid — as well as interesting, helpful and well written.
There is an absolutely exquisite prose poem towards the end of the book, called The Ice Storm. If anyone wants to read it, let me know and I will email it to you (yes, I bothered typing up all 3 pages of it).
Under the Frog – Tibor Fischer – English – Fiction (Novel)
Every book I read teaches me something, either about the world or about me. Sometimes both. One of the most important things I learnt after reading Fischer's debut novel was that I should never try reviewing books. I had glimpsed this knowledge a year or so ago, when I had been commissioned to review two books for a magazine. I sucked at it, but so did the magazine, and we suited each other so well, it was too good to be true. It was because of this semi-knowledge about my lack of reviewing skills that I decided not to post elaborate reviews at this blog. These "Reading list" posts are really just my way of recording responses to the books I've read. Once in a way, if I convince someone else to read a book I like, there's no harm done. Really.
Reading Fischer completed this knowledge. Never shall I think, "Oh, maybe I was wrong. Maybe I can write a decent review." The truth is, if I hate a book, I will hate it with a vengeance. Ever seen the face I make if anyone mentions Arundhati Roy? It's the face of someone who just witnessed maggots crawling out of an animal carcass. That's the facial expression that gets transmitted into words and I'm rarely witty about disgust.
Similarly, if I like a book, I will rave about it like a lunatic. Right now, I'm examining my practices as a reviewer and reader just to keep myself from raving about Under the Frog. It's that awesome.
First off, the humour is just divine: black, mean, sharp, fun. Secondly, it's intelligent. I know: it's such a cliché to call something intelligently funny, but remember that I said I was a crap reviewer.
Fischer takes one of the dreariest bits of Hungarian history (1945 – 1956), when the country was under a communist regime, takes all the miseries of the characters, and makes you laugh about it, while keeping a hold on your sympathies. The novel is filled with the crazy exploits of Gyuri (I think that was his name) and his friends, who are members of a basketball team. I wish I still had the book with me (can you believe that libraries actually expect me to return the books I like?!), so I could quote some of the lines. I loved this bit where G and his friends feel really irritated about "the Imperialists" warring with every communist nation but their own. And the bit where Gyuri's English teacher tries to convince his commie lodger to have a shower because he smelt so bad.
I'm nostalgic about reading the book! It's the sort of book you read despite Salman Rushdie recommending it to you on the cover. And believe me, he does.
Fear of Flying - Erica Jong – English – Fiction (Novel)
O man. What did I learn when I read this? Probably that I am very, very, very picky about the kind of fiction I like. Which is a good thing, because I don't want to find myself liking this sort of writing in an alternate reality, you know? I found so many things wrong with it:
It gets ranty every second sentence.
Jong keeps throwing in these annoying literary references ("Anna [from Doris Lessing's The Golden Notebook] could never orgasm unless she was with a man she loved!" "For so long, women had to understand their own sexuality through the point of view of male writers, like DH Lawrence. Onoes!"). I wanted to reach in and tell Isadora (fat bummed, erratic, confused protagonist) that I don't fucking care how many books she's read or what great conclusions she's made about them; I just want to know what happens in the story!
The blurbs and review snippets on the cover all claim that Jong is witty. Nuh huh. She's merely whiny. And the humour is trying too hard. Trying too hard to be witty, that is. Humour with an identity crisis, or something.
Yet, after all these criticisms, I can't help but say, "Don't dismiss this book." Isadora (still the protagonist) is married (for the second or third time, I don't remember) to a psychotherapist, but she's not happy. She goes in search of a "zipless fuck"/anonymous sexual encounter that would really satisfy her.
The book has been lauded as a work that redefines female sexuality. And I think that, being written in 1973, it probably did. Today, I don't know. I really don't know.
You can probably sense my ambivalence here. Ordinarily, if the execution is poor (in my opinion), I dismiss the book without any hesitation. But there's something about the attempt to explore the liberation of sex that makes me admire Jong.
The truth of the matter is, if this were an essay, I'd enjoy it. Jong's questioning of Lawrence and Lessing and whoever else is perfectly valid. The problem is that the literary references come off as pompous and know-it-all — it didn't matter to me that Isadora had studied literature (which would explain the allusions); it just mattered that she was irritating. But in an essay, all this would have come off as research and scholarship, and possibly come up with some interesting (semi-)conclusions. But then, how many people will an essay reach, as opposed to a novel about sex? At the end of the day, Jong's novel is a message novel, an I-want-you-to-think-about-this-dammit novel. Or isn't it?
I think I'm complicating the whole thing.
La Seconde¹- Colette – Français – Fiction (Roman/Novel)
J'ai tout oublié.
Et c'est dommage parce que c'était un roman bien intéressant, bien écrit.
(Translation: I've forgotten it all.
And it's a pity because it was quite an interesting novel, and well written.)
Piano – Jean Echenoz – Translated from the French by Mark Polizzotti – Fiction (Novel)
Max is an alcoholic concert pianist who has stage fright. One day, he dies. On waking, he finds himself in a bizarre place that seems to be both a hospital and a hotel. Here he is taken care of by a nurse that looks just like Peggy Lee and an attendant that looks just like Dean Martin. At the end his stay, he is told whether he is supposed to spend his eternity in the urban or rural zone. These zones are heaven and hell, but one doesn't know which is which. As you might've guessed by now, it's a kind of modern-day retelling of Dante's The Divine Comedy. Good stuff.
Emma – Jane Austen – English – Fiction (Novel)
Re-reading Austen for fun. I've always loved her.
The only change was, I read this while watching Douglas McGrath's film version of Emma (with Gwyneth Paltrow as E) in bits and pieces, which was great fun. I got to see what he was eliminating and what he wasn't, how the dialogue and characters changed here and there. I would put this above the much lauded BBC miniseries of Pride and Prejudice because the film interpreted the novel instead of merely re-rendering it.
Mansfield Park – Jane Austen – English – Fiction (Novel)
Fanny Price is really, really annoying. But it's a fun book.
____
¹ I'm reading Anaïs Nin's A Woman Speaks (a collection of lectures, seminars and interviews, edited by Evelyn J Hinz) and she seemed to remember better about Colette's La Seconde. Here's what she says about it at the Esalen Seminar, San Francisco, February 12, 1972:
Colette has a beautiful story, especially beautiful in this respect [turning jealousy into love]. It's about two women: one is the wife and the other is the indispensable secretary to a very famous playwright who is terribly egocentric and terribly spoiled by women. The secretary is always there with the woman, sister-like to her, indispensable. Then the woman suddenly discovers that her husband is having an affair with this woman. But she needs her. She says: 'Who am I going to sit here with in the evening waiting for him to come back?' So they sit together and knit together. She really created a relationship to this woman which was more human than her relationship to the impossible, primadonna husband, and her feeling toward the woman is marvelous. So the jealousy disappeared because she really had a great human need of this woman, a caring and tenderness. It was marvelous, especially when she decided: 'What will I do? Send her away? And then I'll sit here and wait for him alone. We used to both sit and wait together.' I know it's sort of old-fashioned in one sense, the acceptance of the man, the enslaving by the husband; but still the relationship between the two women is beautifully and delicately expressed.
Statistics
Woo. So let's check out my stats. (Yes, I'm obsessive. Shamelessly obsessive.)
7 books: 6 novels; 1 poetry collection
Highly Recommended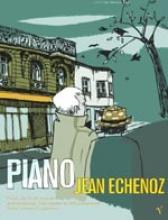 § 3 Responses to Reading list – May 2008"